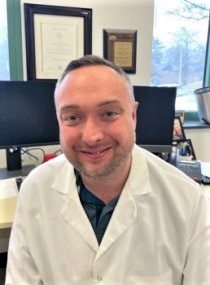 Chris Goulbourne, Ph.D.
Electron Microscopy (EM) Director
Education
BSc First Class (Molecular Biology and Biochemistry), Durham University, Durham, UK
Ph.D. (Molecular and Cell Biology), Oxford University, Oxford, UK
Postdoctoral Training
Fellow, University of California, Los Angeles (UCLA)
Awards and Honors
2014 GlaxoSmithKline Histology Innovation and Enterprise Recognition Award
2013 American Heart Association Postdoctoral Fellowship Award, UCLA
2013 Basic Science Research Poster Prize, UCLA
2011 American Heart Association Postdoctoral Fellowship Award, UCLA
2011 Biochemical Society Centenary Prize
2010 Trinity College Scholarship, Oxford University, UK
2007 UK Medical Research Council DPhil studentship, Oxford University, UK
Research Interests
Dr. Goulbourne has been using transmission electron microscopy (TEM) in order to evaluate the ultrastructural changes that occur in human, mouse and cell culture models of Dementia and Alzheimer's Disease. Immunogold electron microscopy is routinely used to determine the localization of proteins of interest amongst cellular organelles. Cryo-EM has also been successfully utilized to image proteins and novel extracellular vesicles (Mitovesicles) and electron tomography has been used to evaluate ultrastructure in 3D. In addition, advanced imaging modalities such as Correlative Light and Electron Microscopy (CLEM), Serial Block Face Scanning Electron Microscopy (SBF-SEM) and correlative Back Scattered Electron microscopy and Nano Secondary Ion Mass Spectrometry (BSE-NanoSIMS) have been implemented to understand the cellular landscape further. The EM laboratory also supports EM research in other academic institutes and industrial facilities.
Selected Publications
Lie PPY, Yang DS, Stavrides P, Goulbourne CN, Zheng P, Mohan PS, Cataldo AM, Nixon RA. Post-Golgi carriers, not lysosomes, confer lysosomal properties to pre-degradative organelles in normal and dystrophic axons. Cell Rep. 2021 Apr 27;35(4):109034. doi: 10.1016/j.celrep.2021.109034. PMID: 33910020; PMCID: PMC8135226.
D'Acunzo P, Pérez-González R, Kim Y, Hargash T, Miller C, Alldred MJ, Erdjument-Bromage H, Penikalapati SC, Pawlik M, Saito M, Saito M, Ginsberg SD, Neubert TA, Goulbourne CN, Levy E. Mitovesicles are a novel population of extracellular vesicles of mitochondrial origin altered in Down syndrome. Sci Adv. 2021 Feb 12;7(7):eabe5085. doi: 10.1126/sciadv.abe5085. PMID: 33579698; PMCID: PMC7880603.
Pensalfini A, Kim S, Subbanna S, Bleiwas C, Goulbourne CN, Stavrides PH, Jiang Y, Lee J-H, Darji S, Pawlik M, Huo C, Peddy J, Berg MJ, Smiley JF, Basavarajappa BS, Nixon RA. Endosomal Dysfunction induced by directly overactivating Rab5 recapitulates prodromal and neurodegenerative features of Alzheimer's disease. Cell Rep 2020 Nov24:33(8):108420 PMID: 33238112.