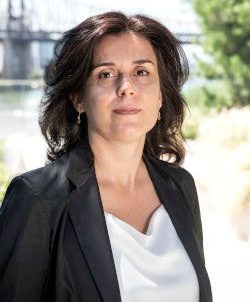 Carla Nasca, Ph.D.
Head of Lab
Research Scientist, Center for Dementia Research
Carla.Nasca@nki.rfmh.org
Assistant Professor
Departments of Psychiatry, Neuroscience & Physiology
NYU Grossman School of Medicine
Nasca NYU page
Carla.Nasca@nyulangone.org
Visiting Assistant Professor, Rockefeller University
Nasca Lab
The Epigenetics & System Neuroscience laboratory headed by Dr. Carla Nasca is working on an innovative model of epigenetic mechanisms of neuroplasticity to stress with a new angle on mitochondrial metabolism. Key to this framework is the pivotal mitochondrial metabolite L-acetyl-carnitine or LAC, which our lab discovered as a novel epigenetic modulator of glutamatergic function and a promising therapeutic target for clinical endophenotypes of depression – a prodrome to Alzheimer's Disease. Our laboratory also uses computational approaches together with emerging technologies to isolate patient-derived exosomes for identifying in vivo neural mechanisms of main CNS diseases (mood and cognitive disorders) and potential biomarkers of the responses to antidepressant candidates (LAC), drugs (ketamine) and brain stimulation (TMS).
Research Interests
Dr. Nasca's research led to the discovery of acetyl-L-carnitine (LAC) as a promising biological marker of depression and a modulator of brain plasticity – the ability of the brain to change and rewire. LAC is a metabolite found in the mitochondria, which is known as the powerhouse of the cell. Dr. Nasca demonstrated that LAC can turn on genes important for brain plasticity. This effect occurs primarily with genes related to the neurotransmitter, glutamate, in parts of the brain involved in emotion. In turn, administration of LAC can act as a rapid anti-depressant in mice exposed to chronic stress, a primary risk factor for depression. Dr. Nasca's current investigation established a broader link between LAC and metabolic problems of depression such as insulin resistance – a condition in which organs have trouble using glucose, the body's main source of fuel. The translational work in humans suggests that LAC is a biomarker of depression associated with childhood trauma and resistance to traditional antidepressants. These novel insights into fundamental mechanisms of the brain increases our basic understanding of brain-body communication and opens the possibility for novel, more effective therapies for metabolic problems and depression in a way different from traditional antidepressants.
Education
M.S. (Molecular Biology), University of Palermo, Italy
Ph.D. (Neuropharmacology), Sapienza University of Rome, Italy
Postdoctoral Training
Postdoctoral Fellow, American Foundation for Suicide Prevention, Bruce McEwen laboratory, The Rockefeller University,
New York, NY
Awards and Honors (Selected)
2022-    National Institutes of Health (NIH) Ad hoc Reviewer for the BNRS Study Section
2022-   Associate Member, American College of Neuropsychopharmacology (ACNP)
2022     Bruce McEwen Memorial Lecture, International Congress of Neuroendocrinology (ICN), Glasgow, UK
2022     ASCP Program Committee, American Society of Clinical Psychopharmacology
2021     Second NARSAD Young Investigator Grant, Brain and Behavior Research Foundation
2020    National Institute of Aging (NIA) Reversibility Network Award
2019     First NARSAD Young Investigator Grant, Brain and Behavior Research Foundation
2019     Blavatnik Awardee for Innovative Research
2018     ASCP New Investigator Award (NIA), American Society of Clinical Psychopharmacology, Miami, FL
2017     ACNP Travel Award, American College of Neuropsychopharmacology, Palm Spring, CA, US
2017     ECNP Travel Award, European College of Neuropsychopharmacology (ECNP), Paris, France
2016     The New York Academy of Sciences (NYAS) F1000 Prize, New York, NY
2016     SfN Neuroscience 2016's Hot Topic, Society for Neuroscience (SfN), San Diego, CA
2015     PDA Career Development Award, The Rockefeller University, New York, NY
2014     NIDA Early-career investigator presenter, satellite event at SfN 2014, Washington, DC
2014     SfN Neuroscience 2014's Hot Topic, Society for Neuroscience, Washington, DC
2013     Best Ph.D. Thesis Award, Accademia Gioenia, Catania, Italy
2013     AFSP PostDoctoral Research Fellowship, American Foundation for Suicide Prevention
2013     ECNP Fellowship, European College of Neuropharmacology, Barcelona, Spain
2013     AAAS/Science, Excellence in Science, American Association for the Advancement of Science
2012     Research Fellowship, The Italian Society of Pharmacology, Italy
2011      ECNP Award, European College of Neuropharmacology, France
Alumni Members
Olivia Barnhill
Paolo De Angelis
Josh Dobbin
Anjali Ferris
Ricardo Lima Filho
Jonathan Lai
Daniella Miller