New York State Senator Carlucci Meets With NKI Administrators and Investigators from the Center for Dementia Research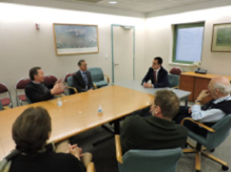 New York – State Senator David Carlucci visited NKI to meet with administrators and Center for Dementia Research scientists, and to view two state-of-the-art microscopes.
The Zeiss LSM 880 Confocal Laser Scanning Microscope and Leica LMD7000 (Laser Capture Microdissection System) were acquired through Senator Carlucci's advocacy and support. They enable unprecedented exploration of the brain at the level of single neurons as they develop Alzheimer's disease and will help ensure NKI's continued scientific leadership toward the goal of a world without Alzheimer's disease.