Resources
The availability and access to resources are critical to the success of individuals, organizations, and societies. The ability to efficiently and effectively allocate resources plays a fundamental role for achieving sustainable growth and development.
Animal Facility
The Animal Facility is a shared resource that facilitates research through humane, ethical, and efficient management of animal populations and is overseen by the Institutional Animal Care and Use Committee (IACUC). The central animal facility encompasses 13,580 sq. ft. and provides a highly productive environment to conduct research studies in Alzheimer's disease and other neurologic diseases. An attending veterinarian specializing in animal use in research trains the facility lab and animal technicians, as well as research staff. The attending veterinarian is directly responsible for the program of veterinary care and the humane use of animals in research. A full-time staff certified veterinary technician assists in health monitoring, treatment, and research support. A full program of occupational health and safety, to include consideration of rodent allergies, is integral to the program of animal care and use. The vivarium operates as a modified barrier facility and houses core
genetically engineered mouse breeding colonies that supply experimental mouse models for studies. These colonies are used for studies of neuromolecular, physiology, behavior, and genetic mechanisms of spectrum disorders related to dementia, anxiety, autism, depression, seizures, and addiction, among others, in addition to the development of treatment for such disorders. Rodent surgery is performed in an equipped surgical suite comprised of a surgical room, animal prep room, scrub room, instrument cabinets, autoclaves, gas-anesthesia, scavenging equipment and stereotaxic apparatuses.
The attending veterinarian either participates in or supervises surgeries and trains investigators and lab staff in specific techniques, including anesthesia and post-surgical analgesia and monitoring.
7T Magnetic Resonance Imaging/ Spectroscopy (MRI/S)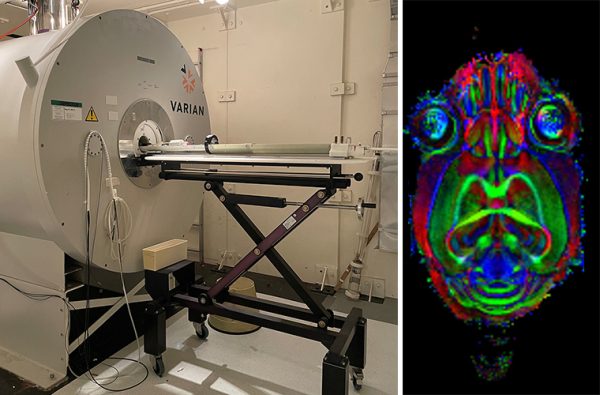 The 7T animal MRI/S system is used in studies of rodent models of neuropsychiatric disorders. Studies performed on the 7T include diffusion measures in mice with hyaluronan deficiency, cuprizone-induced demyelination and a Ts2 model of down syndrome, as well as functional connectivity measures in a rat model of caregiver maltreatment. Proton spectroscopy studies have also been applied in models of Alzheimer's disease, schizophrenia and chemogenetic stimulation (DREADDS). Current active protocols include quantitative cerebral blood flow (CBF) imaging in a mouse model of schizophrenia and development of a specialized acquisition for measurement of the pH-sensitive downfield resonances of the amide proteins.
9.4T MRI Scanner
The Computational Neuroimaging Lab, part of NKI's Center for Biomedical Imaging and Neuromodulation (C-BIN), strives to advance novel computational analysis and experimental techniques for determining how brain function and structure are impacted by mental illness and development. A current project includes the development of a 9.4T MRI scanner. Together with the Design, Acquisition and Neuromodulation Laboratories (DANL), the Computational Neuroimaging Laboratories (CNL) is leading the efforts for the development and implementation of a 9.4 tesla magnetic resonance imaging system at NKI; it will be one of the most powerful imaging systems in the world for neuroscientists to study the human brain. This neuroimager will safely and noninvasively observe human brain anatomy, metabolism and function at the highest spatial, spectral and temporal resolutions achievable. This instrument will bring together neuroscience
researchers from throughout the Greater New York City and Tri-State area. Centrally located in one of world's top neuroscience communities, this 9.4T neuroimager will foster significant new discovery in understanding the human brain and behavior.
A novel second-generation console to optimize the quality of data obtained from this ultra-high field strength magnet is also being developed. This revolutionary engineering project is conducted as a collaboration between NKI, Columbia, NYU and Cornell engineering schools, and New York State industries including GE Global Research and Communications Power Corp. This console will be interfaced to an existing 9.4T head-only magnet to complete the neuro-imaging system. It will be housed in a new ultra-high-field imaging laboratory being built separately for this project.
NKI Health Sciences Library
The Health Sciences Library at the Nathan Kline Institute offers an array of biomedical and mental health information resources in both electronic and print formats. The research-oriented collection is particularly strong in psychiatry, neuroscience, psychopharmacology, and the history of mental healthcare, making NKI's library one of the best sources for psychiatric information in the Hudson Valley region. While the print collection is now largely archival, the librarian can provide access to the full range of online journals and databases. In addition, the librarian offers personalized services including current awareness alerting; expert database searching; document delivery; and consultation on information issues as needed. A searchable database of staff publications is maintained (intranet access).